The Five Tibetans Yoga Workshop
Connecting to All That Is...
Read an excerpt from the book in this magazine article.
As I sat on the top of the sand dune watching the rainbows appear and disappear, I felt a moment of absolute connection with the scene in front of me and all that was around me. I was in a womb of perfection, connected to sea and sky and color, aware of the water droplets and the geese, surrendering to the moment and my inability to capture it.
The world changed around me. The light shifted. The rainbows came and went and came again. The geese passed overhead.
A Personal Practice for the Best of Days
...and the Worst of Days
I was in the living room of a house on the North Sea in Scotland in the midst of becoming a Reiki Master when my teacher said…"I can teach you some yoga."
From that day in November 2011 forward, that "yoga" has been my constant companion.  Two years later I wrote a book about it.
The "yoga" my teacher taught me was actually an ancient yoga-like Tibetan practice that we over here in the West call The Five Tibetans or the Five Rites.
The Five Tibetans are 5 simple exercises that are performed repetitively and rhythmically. The exercises themselves have been attributed to all manner of physical enhancement and healing. (In fact, they have been referred to as the ancient secret of the fountain of youth!)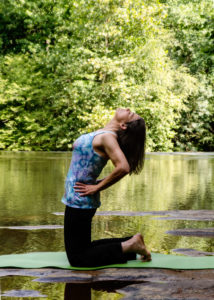 But the part of this practice that has made the greatest difference in my life is a daily contemplation of what I have referred to in my book as the grasping and healing behaviors.
I am very happy to be able to offer this practice to you. You can order the book. You can avail yourself of a free starter series that will orient you to a daily practice of the 5 Tibetans and to the exercises themselves.
When we experience the process of change, we usually have to work through resistance and roadblocks that, left in place, can cause us to become stuck in old emotional habits. I have found a daily practice of the Five Tibetans to be one of the best "emotional clog busters" I have ever encountered.